For Faculty
Campus Access Status
Restricted Access
Access to the Brooklyn College campus is limited to approved students, faculty, staff, and visitors.
What You Need to Access Campus
Your BC Digital ID now includes a green key icon that indicates whether your vaccination is fully approved in CUNYfirst or you have a negative PCR test from a CUNY COVID-19 testing site within the past seven days. If you have not done so already:
Submit your CUNY vaccine verification (students, employees) or schedule an on-site COVID-19 test to receive your green key.
Be sure to install BC Navigator on your smartphone.
Sign in with your WebCentral account to start using your Digital ID.
If you do not have a smartphone, you will need a physical college ID card and a copy of your CLEARED4 QR code to access campus. If you do not have both, send an e-mail for assistance. Gate ambassadors will also be available to help at the campus entrances. If you will require assistance, be sure to arrive early.
If you are expecting anyone from outside the college community to come on campus, please refer to the visitors webpage for more information.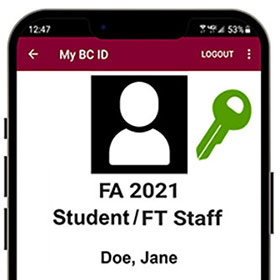 Faculty Vaccination Requirement
Vaccination is now required for faculty, instructional staff, and individuals in the Executive Compensation Plan. Please visit the CUNY website for the most up-to-date information on the faculty vaccination mandate.
Review this visual guide for employees outlining how to submit proof of vaccination, including booster shots.
Access for Visitors 
The RRB has updated the visitor policy. Please note that there are multiple categories of visitors, each with their own requirements. Most importantly, visitors attending campus events or performances do not need to be entered into CLEARED4 and C-Entry at this time. Departments, however, must coordinate with Public Safety and check the vaccination or testing status of all their guests upon entry to the event or performance they are hosting. Full guidelines are available here. 
Spring 2022 Reentry Guidance for Faculty 
Additional information for faculty returning to campus in spring 2022 can be found in the May 10 letter from the provost.
For vaccination verification, CLEARED4 issues, or other access related questions, faculty should contact the Office of Human Resource Services.