Incoming Freshmen
Your first year of college is an important one, so Brooklyn College strives to help you make the most of it through our First College Year program and our Honors Academy programs for incoming students. As your education progresses, you'll be able to chart your course work overseas with our international education program, and you can apply to other Honors Academy programs for upper-level students. Whether you've already decided on a major or need more time weighing your options, we have an attentive admissions team to help answer questions about admissions requirements, financial aid and scholarships, and campus visits.
Spring 2021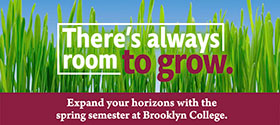 There's always room to grow.
Expand your horizons with the spring semester at Brooklyn College.
Register by January 27, 2021 to ensure you get the classes you want and need! Classes start January 29.
Stay Connected With Us Virtually!
Undergraduate Admissions is operating remotely.
Even though campus visits are not an option during the current health crisis, we still want to connect with you and answer your questions.
How to Apply
Applying and fee payment have never been easier with our online Application for First-Year Student Admission.
Application Deadlines
Application deadlines vary by semester and program. Please visit our application deadlines website.
How to Finance Your Education
Brooklyn College offers a range of rigorous programs at a very affordable tuition rate. Tuition and fees vary depending on your student classification type and where you reside, but there are plenty of options available to finance your education, including scholarships, awards, prizes, and loans. Let us help find the right one for you.
Financial Aid Deadlines
Application deadlines vary by program and package. Please visit our financial aid website.
Featured Campus Facility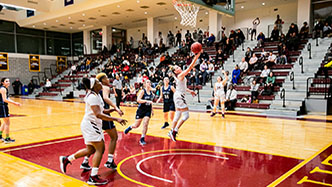 Our courts are the exciting scenes of championship-winning games.