Sustainability
Sustainable CUNY 2020 Year in Review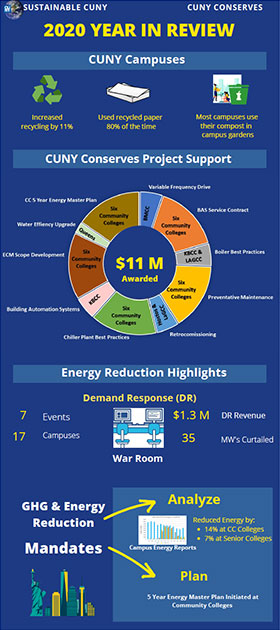 Sustainable CUNY is a strategic program that focuses on sustainability and energy conservation at America's largest urban public university as well as supporting the integration of safe distributed resources such as solar and energy storage into NYC's infrastructure. Sustainable CUNY continues to work with our many partners throughout this difficult year and look forward to a healthy 2021. Learn more on the Sustainable CUNY website.
Information Webinar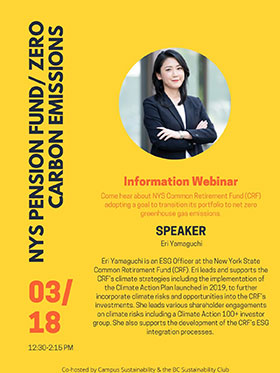 NYS Pension Fund / Zero Carbon Emissions
March 18, 2021 
12:30-2:15 p.m.
Come hear about NYS Common Retirement Fund (CRF) adopting a goal to transition its portfolio to net zero greenhouse gas emissions. Sign up for this event here. 
Speaker - Eri Yamaguchi
Eri Yamaguchi is an ESG Officer at the New York State Common Retirement Fund (CRF). Eri leads and supports the CRF's climate strategies including the implementation of the Climate Action Plan launched in 2019, to further incorporate climate risks and opportunities into the CRF's investments. She leads various shareholder engagements on climate risks including a Climate Action 100+ investor group. She also supports the development of the CRF's ESG integration processes.
Co-hosted by Campus Sustainability and the BC Sustainability Club. 
Email Campus Sustainability at sustainability@brooklyn.cuny.edu for more information. 
Find out more about the Brooklyn College Sustainability Student Club on bulldog connection. 
Brooklyn College Farm Share (Farm2Campus)
Corbin Hill Food Project and Brooklyn College: Flexible, Affordable, Convenient
Check out Corbin Hill Food Project's new Rotating Add-Ons, each week new items are for sale at select sites. At this time, campus distributions are cancelled. 
Please visit the Corbin hill Food Project website and this space for updates. Read our feature in The Brooklyn College Vanguard.
The mission of Brooklyn College's sustainability initiative is to create an overarching culture of sustainability throughout the entire campus community by raising awareness of, engagement in and commitment to reducing our carbon footprint through campus-based education, research, operations, community-based collaboration, and service. Our sustainability planning will take special recognition of the constraints, opportunities, and responsibilities attendant with our urban location in one of the most densely populated cities in the United States.
To advance this mission, in 2010 the college convened the Brooklyn College Sustainability Council and the Provost's Task Force on City-Based and Sustainability Education to evaluate sustainability on campus and make recommendations for improvements in seven pillar areas:
Waste Management and Recycling
Water
Energy
Procurement
Food and Nutrition
Transportation
Outreach and Education
Goals for advancement in each of these areas are included in Brooklyn College's 10-Year Sustainability Plan.
This plan guides the college's green initiatives, in conjunction with the CUNY Sustainability Initiative and PlaNYC and in partnership with businesses, government, regional and citywide organizations.