Office of the Registrar
We're Here To Help!
Please note, we will not have Virtual hours on Monday, February 13 and February 20.
Our new Virtual Hours. Registration is not needed. You can join at any time below: 
Mondays, 2–5 p.m.
Tuesdays, 10:30 a.m.–1:30 p.m.
Wednesdays, 2–5 p.m.
Thursdays, 10:30 a.m.–1:30 p.m.
The Center for Academic Advisement and Student Success (CAASS) has information sessions on Pathways, DegreeWorks and Sophomore drop-in advisement session.
Diploma Distribution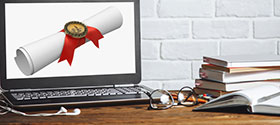 Your diplomas are almost ready! Ensure your mailing address is up to date in CUNYfirst.
The Office of the Registrar is excited to inform you about our virtual office hours. Registration is required to join the meeting; click on the link below to register:
Due to COVID-19, the Office of the Registrar and the Enrollment Services Center are working remotely. We continue to strive to provide the best service possible while working remotely from off-campus. Please understand that requests may take longer than usual. We ask for and appreciate your patience during this difficult time. Best wishes and stay safe!
If you need proof of your degree, you can order a transcript online. Official Transcripts may be ordered here. You can also view your Unofficial Transcript in CUNYfirst using the following steps: Student Center > Academics > Other Academics > View Unofficial Transcript.
All changes to student records, including grade changes, removals of incompletes, and transfer work necessary for completion of degree requirements must be on file in the Office of the Registrar by the Friday following the end of the term of graduation. Brooklyn College academic records are sealed upon the conferral of a degree.
Contact Information
E: registrar@brooklyn.cuny.edu
Follow our Instagram for important updates.