For Admitted, Incoming, and Current Students
Campus Access Status
Restricted Access
Access to the Brooklyn College campus is limited to approved students, faculty, staff, and visitors.
What You Need to Access Campus
Your BC Digital ID now includes a green key icon that indicates whether your vaccination is fully approved in CUNYfirst or you have a negative PCR test from a CUNY COVID-19 testing site within the past seven days. If you have not done so already:
Submit your CUNY vaccine verification (students, employees) or schedule an on-site COVID-19 test to receive your green key.
Be sure to install BC Navigator on your smartphone.
Sign in with your WebCentral account to start using your Digital ID.
If you do not have a smartphone, you will need a physical college ID card and a copy of your CLEARED4 QR code to access campus. If you do not have both, send an e-mail for assistance. Gate ambassadors will also be available to help at the campus entrances. If you will require assistance, be sure to arrive early.
If you are expecting anyone from outside the college community to come on campus, please refer to the visitors webpage for more information.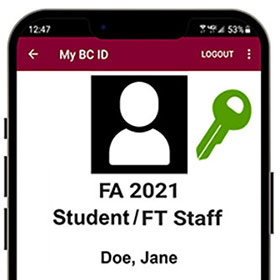 Message From the CUNY Chancellor: Testing, Vax, and Return to Work Updates
We're All in This Together!
Following CUNY and New York State guidelines, extensive measures are in place to ensure the safety of our returning campus community. The Office of Environmental Health and Safety and Facilities teams are working tirelessly to ensure campus spaces meet safety guidelines. Federal, state, local, and CUNY guidance or regulations continue to evolve. Review the latest Brooklyn College process and procedures here.
Vaccination Requirement
For the most up-to-date information about the vaccination mandate, visit the CUNY Student Vaccination Mandate FAQ website.
Additional Safety Measures
All Brooklyn College staff and faculty who do not have proof of vaccination will be required to undergo COVID testing on a weekly basis. Our current onsite plans include mandatory masks, social distancing where possible, frequent hand washing, improved ventilation, enhanced cleaning protocols, and reduced density on campus. Our highest priority is to keep everyone on campus safe.
If you are cleared to access campus, please adhere to the campus safety guidelines. This includes:
social distancing where possible,
adhering to the face mask policy,
washing your hands frequently, and
staying home if you feel sick.
We understand that these guidelines may be inconvenient at times, but they are critical to ensuring the safety of everyone on campus. If you see anyone on campus not complying with the COVID-19 safety guidelines, report any unsafe activity.
Important
The policies and procedures outlined on these pages are based upon current COVID-19 recommendations and are subject to change based on new CUNY and New York State policies.