Transcripts
Diploma Pickups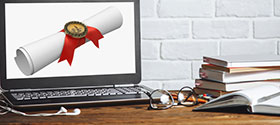 Your diplomas are almost ready! Ensure your mailing address is up to date in CUNYfirst.
Note: Brooklyn College is unable to process PDF transcript requests for any student inactive prior to 2003. Please choose the hard-copy option, and remember there will be a delay in those requests.
Ordering Your Transcript Online—Fast and Convenient!
Only credit card payments are accepted. Allow three to five business days for processing.
For more information, visit www.cuny.edu/transcript.
Important
A signed form authorizing release of your academic transcript is required before your order can be processed. Online orders cannot be processed if you have an existing financial obligation to the college.
Order by Phone
If you do not have access to the Internet, you can call Credentials Inc. at 847.716.3005 to process the order on your behalf. Ordering by phone is available:
Monday–Thursday, 7 a.m.–7 p.m. CT
Friday, 7 a.m.–5 p.m. CT
Viewing Your Transcript
If you attended Brooklyn College in the last two years, you can view your transcript online through CUNYfirst.
Additional Assistance
If you need assistance, e-mail the Office of the Registrar.