Campus Life
Viewbook: Why Brooklyn College?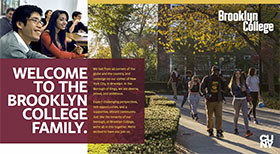 Take a look inside to learn why we're consistently named one of the top public colleges in the nation for diversity, best value, and social mobility.
As a Brooklyn College student, you are part of a diverse and lively community of scholars. We are dedicated to providing a safe space in which you can explore all aspects of campus life, whether academic, athletic, cultural, political, recreational, social, or spiritual.
Our students are new high school graduates just starting their college career, students with one degree already in hand and working toward their advanced degree, transfer students from other colleges, veterans, students from other states and countries, and adults returning to school. And we provide a wide variety of campus activities through which you can meet them. You can join one of our intercollegiate or intramural sports teams, or show your support as a spectator at our games; become a community volunteer or participate in student government; pledge one of our many Greek organizations; become a member of one or more of our 114 student clubs; or visit the West Quad Center for a good workout or a pickup basketball game.
Our commuter students—and that's most of our student body—have plenty of places to meet, such as our 24/7 Library Café, which includes a Starbucks; the bustling Student Center; and our lovely (and meticulously maintained) grounds.
There are also two dozen on-campus centers and institutes—hubs of learning and social activity for those who have similar interests to yours. And special events throughout the year are open to all, uniting us into one cohesive community.
We encourage you to become an active member of Brooklyn College. If you need assistance in navigating the prospects available to you, the Division of Student Affairs, in association with the Office of Academic Affairs, will assist you in selecting opportunities that will enrich your campus experience.