Company Visits
While students pursuing particular majors and minors are typically enticed by the subject-matter, they are oftentimes unaware of the types of jobs in their coming field, along with the skills required to excel in them. Many are unsure about the exact day-to-day of a career within a particular industry, from the company culture and salary to rigor of tasks assigned
The Magner Career Center at Brooklyn College is especially devoted towards helping its students learn first-hand about a profession and industry. We take students on field trips to a plethora of company offices, firms, and entire organizations. In doing so, our students are given the valuable chance to meet Brooklyn College alumni who work across a wide variety of industries. Our company visits give students the opportunity to network with professionals, learn plenty more about a field or company, and especially determine if it is the right fit for them! The Magner Center's company visits span across countless fields and industries.
Some of our past visits include but are not limited to:
American Museum of Natural History
Arthur Ashe Institute for Urban Health
Bloomberg
Brooklyn Appellate Court
CBS
DCAS
Deloitte
DKNY
Estée Lauder
Etsy
Goldman
Goldman Sachs
Google

Grant Thornton
Hachette
Hot97
Hudson River Park Trust
Ion Media
IPG mediabrands
Lincoln Center
Madison Square Garden
Morgan Stanley
MSG Networks
MTV
New York Methodist Hospital
P.S. 682

Penguin
PricewaterhouseCoopers
SiriusXM
Spectrum News NY1
SUNY Downstate Medical Center
Teach for America
The Ad Council
The Food Network
The New York Times
Tough Mudder
United Nations
Urban Future Lab
WABC–TV
WNET–PBS
Employers or alumni interested in hosting a visit please email careernews@brooklyn.cuny.edu or call 718.951.5696.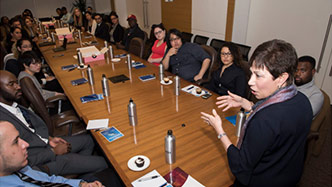 Discovery
While visiting Discovery, students received valuable career advice from the company's head of human resources and Brooklyn College alumna Adria Alpert Romm '77.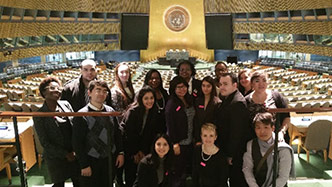 United Nations
Under the direction of the Magner Center, Students from Brooklyn College took a trip to the United Nations and learned about its branches, internship programs, division of causes, and so much more!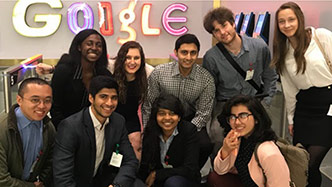 Google
Our students took a trip to visit Google and learned about its workplace culture, how to elevate their competitiveness in the market, and how to "think big!"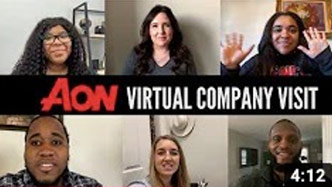 Aon
Students received a virtual tour of Aon careers and learned about its branch division, work culture, and methods of task dispersion.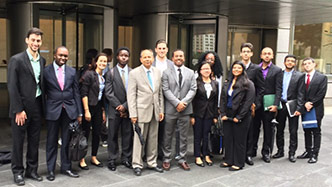 Goldman Sachs
Students learned about the daily operations of an investment company, such as the division and responsibilities assigned to its various branches. They also observed a financial rundown meeting and received career search advice from analysts and other professionals.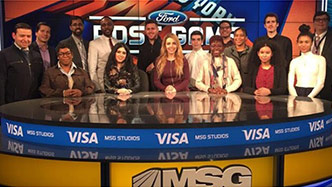 MSG
While visiting MSG, students learned about how the professional sports company manages its teams, as well as observed reporters recalling events live.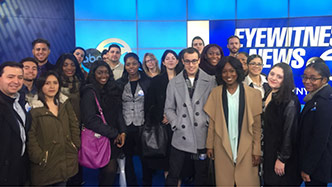 WABC-TV
Our Brooklyn College students took a trip to WABC-TV where they were able to watch a live broadcast of Eyewitness News at noon. They also took a tour of the ABC newsroom.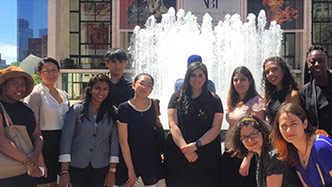 Lincoln Center
While speaking to a recruiter from the Lincoln Center, students learned about résumé building and job searching techniques.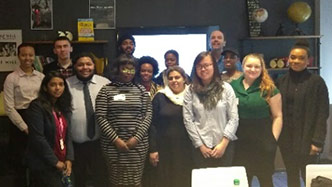 Teach for America
While visiting, students learned more about the non-profit sector of education, and Teach for America's stated mission to "enlist, develop, and mobilize as many as possible of our nation's most promising future leaders."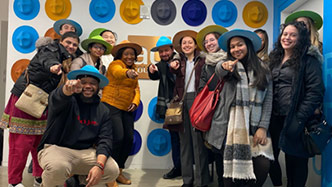 The Ad Council
Students learned about the goals of the Ad Council and observed the behind-the-scenes behind producing, distributing, and promoting public service announcements.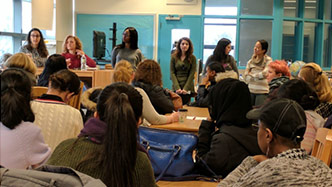 P.S. 682
Our students observed a class-in-session and gained a glimpse of the day-to-day operations of an elementary school teacher.