Student Center
Brooklyn College Student Center Presents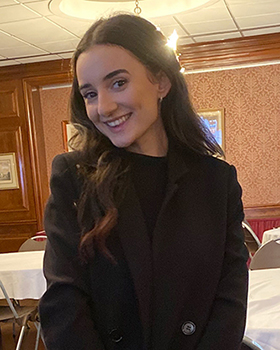 Mary Halabani, Junior
Recipient of the Student Center's 2020 Charles Whipple Award
East 27 Street and Campus Road
P: 718.951.5842
F: 718.951.5435
E: bcstudentcenter@brooklyn.cuny.edu
Mondays–Thursdays, 8:30 a.m.–10:30 p.m.*
Fridays, 8:30 a.m.–5 p.m.
The Brooklyn College Student Center, located on East 27 Street and Campus Road, was constructed in 1962 and funded primarily through a portion of student activity fees.
The center is home to the Undergraduate Student Government and Graduate Student Organization student presidents and the Greek Council. It also contains a study room, computer room, quiet reflection room, lactation room, and game room.
For more on Student Center services, check out our Services page.
The Brooklyn College Conference Center, comprising the top two floors of the Student Center, is a meeting complex open to students, faculty, staff, and residents of the borough. It offers flexible meeting spaces that can accommodate meetings, workshops, receptions, lectures, seminars, conferences, and more.
*Contact us via e-mail for hours of operation during the January intersession and summer, when hours vary.