They Found Love at Brooklyn College
Did you find love at Brooklyn College? Tell us your story on Facebook at #IFoundLoveatBrooklynCollege or contact us at Alumni Engagement.
Adam Barnett '90 and Mindy Bernstein Barnett '88
"My name is Adam Barnett. My wife, the former Mindy Bernstein, and I met at Brooklyn College in the late 1980s. Mindy and I met in the Core Geology class. It was a large class in a big auditorium with over 100 students. I noticed her immediately. She later admitted to noticing me as well. I took the occasion to speak to her during a class field trip to Central Park. I helped her up and down the big rocks like a gentleman. She wore inappropriate footwear that day—boots with heels! We like to joke that our relationship started rocky, but keeps getting stronger and stronger. We both enjoyed walking together at Brooklyn College's beautiful urban campus, and I fondly recall walking her to her classes. We are very blessed. We've been married since 1993. Mindy graduated in 1988 with a B.S. in finance. I graduated in 1990 with a B.A. in TV and radio, and I later went to law school. I'm now practicing law in Fort Lauderdale, Florida, with my brother. Mindy keeps us both honest and manages the law firm as well as being the most awesome mom to our daughter, Taryn. We can certainly say that we lived up to the ideals of the Brooklyn College motto of the 1980s: If you want to go far—Go to BROOKLYN! We are grateful for the many opportunities Brooklyn College gave us over the years, both personal and professional."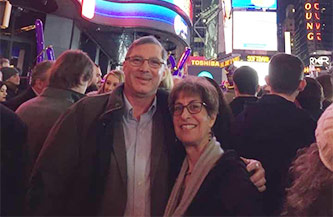 Steven Lefland '81 and Cheryl Bernholz Lefland '82
Cheryl and Steven met in spring 1978 on a Friday night House Plan Association (HPA) Road Rally. Too shy to ask for a date, Steven had their mutual friend Ross (also a Brooklyn College graduate) ask. While dating at Brooklyn College, they played hearts and spades in the Boylan Hall basement cafeteria between classes. During club hours on Monday and Wednesday, Cheryl and Steven played co-ed football and softball. Steven became the captain of the bowling team and Cheryl was the president of HPA. Immediately following brain surgery in December 1981, Steven proposed while under anesthesia, promptly falling back to sleep and not hearing an official "yes" until 24 hours later. They married in April 1983 and raised two daughters in Croton-on-Hudson, New York. Both daughters are married; one lives and works in England, the other in Baltimore. They remain close with many of their Brooklyn College friends, and have attended yearly HPA reunions. Having relocated to "The Villages" in Florida in May 2019, they have connected with Brooklyn College friends in the area. As they say, Brooklyn is the center of the universe—in their case, it certainly is!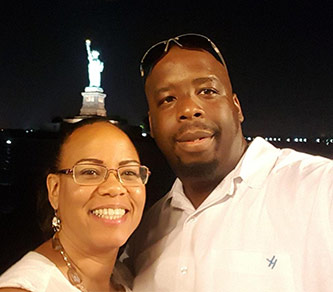 James '00 and Raquel Sanon '01
"I waited years to complete my thesis, only to find my wife in the final days of me working on my paper in the GSO (Graduate Student Organization) Office. We have been married 12 years."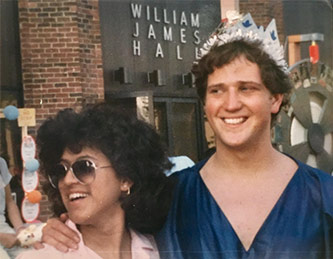 Sarai Nieves '85 and Bill Hoblin '85
Sarai and Bill met in the Brooklyn College swimming pool in the old Plaza Building the summer before their senior year in 1984. Bill studied TV and radio communications, and Sarai studied early childhood education. Sunny days found them either sitting on the steps to the overpass that once crossed Bedford Avenue or by the lily pond tucked between Ingersoll and LaGuardia halls. Bill was the Kingsman's ad director and would profess his love for Sarai in the classifieds on a weekly basis. Sarai led the Early Childhood Education Club and hosted great parties in SUBO. They've been married since August 1990. As their Brooklyn College t-shirts stated in 1981, "If you want to go far, go to Brooklyn."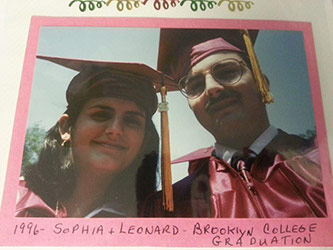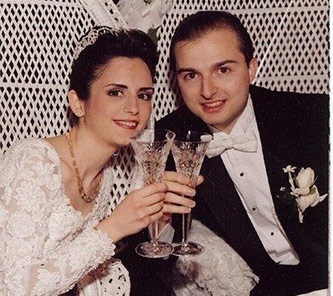 Sophia '96 and Leonard Caputo '96
"We met in June 1994; I responded to a help-wanted sign in the former Academic Computing Center (ACC)," says Sophia Caputo. "I spent lots of time there as a CIS major, so a job at the ACC was perfect. I gave my résumé to Lenny (who was also a CIS major) to give to Mia, the hiring manager. He thought I was cute, wearing shorts. After several weeks, I hadn't heard from Mia, so I went to ask and saw Lenny again. Eventually, Mia hired me. Kirk, a senior lab tech, was to train me, but Lenny, also a senior lab tech, asked Kirk to trade schedules. Training went well, and Lenny asked me to have pizza at the Junction. I was too busy, working this job and an NBC internship in Midtown, and being involved with Brooklyn College's Student Government. Lenny was a brother of the Alpha Phi Delta Italian-American Fraternity. Finally, I said OK to pizza. In October, we started dating, and the rest is history. In June 1996 we graduated, and we married in December 1998. Twenty years later, we're living in Staten Island, New York, working full-time and raising two daughters."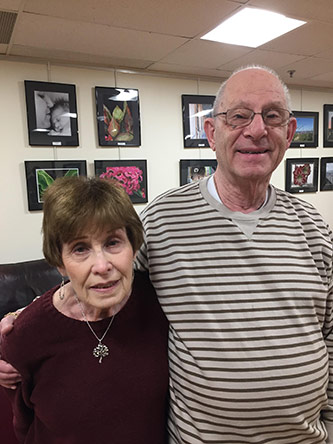 Paul '57 and Elaine '59 Arden
Elaine and Paul Arden met at a dance with her high school house plan and his college house plan. Paul went home and immediately told his mom that he just met his future wife. His mom may have thought he was crazy, but he was right. They married soon after he graduated and while she was a junior at Brooklyn College. It's been sunshine and rainbows ever since.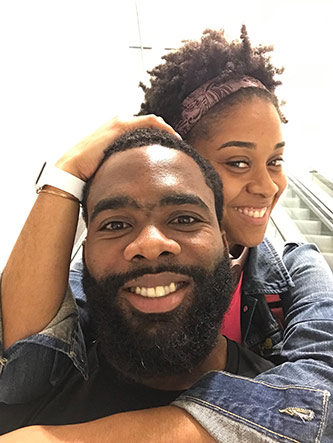 Mickaël Déjean '18 and Neikyla Reid '19
"Neikyla and I saw each other mostly at campus events," says Mickaël Déjean. "Throughout the semesters, we'd cross paths a few times but we never interacted, just a cordial hello. Thanks to our mutual friend Alyssa we were able to exchange contact info. We hung out for the first time on November 22, 2018, which was Thanksgiving Day. We both felt a strong, pure, effortless, and genuine chemistry that was undeniable. From that day we kept in touch daily, to the point that we would always be together on campus, and never looked back. As feelings started to develop, I asked her, 'Are you ready to make this jump with me?' Surprised and shocked by that question, she took a few seconds and responded yes. On June 2, 2019, I asked her to be my queen, and we've been together ever since."