H. Wiley Hitchcock Institute for Studies in American Music
The H. Wiley Hitchcock Institute for Studies in American Music at Brooklyn College (HISAM) supports American music scholarship, pedagogy, and performances. We recognize and seek to connect diverse local, national, and global musical practices across a broad spectrum of oral, popular, and art music traditions. We represent scholars, performers, and creators that reflect the racial, economic, and gender diversity of our students, faculty, community, and the world. Through our biannual publication, American Music Review, the Polycultural America Speaker Series, monographs, collection of oral histories, and forums for public musicology, the faculty and staff of HISAM seek to resist systems of oppression, acknowledge the privileges of whiteness, strive for social justice, and publicly promote antiracism.
Music in Polycultural America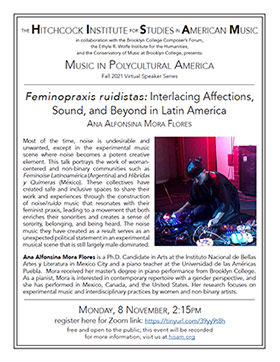 Feminopraxis ruidistas: Interlacing Affections, Sound, and Beyond in Latin America
with Ana Alfonsina Mora Flores
Monday, November 8, 2021
2:15 p.m.
More Information
718.951.5655
hisam@brooklyn.cuny.edu
Now Introducing the HISAM Vimeo Channel
Go to our channel and check out our past Speaker Series events for talks you may have missed.
American Music Review