2022 Commencement Ceremony Guide
The commencement ceremony will be held on Tuesday, May 31, 2022 at the Barclays Center.  Please review the following information in preparation for the ceremony.
All attendees must go through a security check. For safety, security, and visibility, students and guests will not be admitted with large packages, briefcases, backpacks, balloons, or containers of any type. Please refer to the Barclays Center guide of prohibited items by visiting: http://www.barclayscenter.com/center-info/a-z-guide.
Mask and Vaccination Requirements
While we are not requiring you to have proof of vaccination or a COVID test to attend the Commencement Ceremony, we are requiring everyone to wear a mask inside Barclays during the event for health and safety reasons. Please note that requirements may change based on CDC and/or federal, state, local or CUNY guidelines.
Student Entrance–Mobile Ticket Required
Students in need of accessible accommodations must contact the commencement team by May 13 using the online form – www.brooklyn.cuny.edu/commencement/contact.
7:30 a.m. – Doors open for Student Check In (mobile ticket required). All students must enter through the Emblem Health Dean Street entrance of the Barclays Center located on Dean Street between Flatbush Avenue and 6th Avenue. Only graduating students with an official Brooklyn College cap and gown and a mobile ticket will be permitted to enter the Dean Street entrance and participate in the ceremony.
8:30 a.m. – All students must be checked in and seated
9 a.m. – Ceremony Begins
11:30 a.m. – Ceremony concludes. Children are not allowed to enter through the Dean Street entrance or remain in the student seating area. If a child accompanies you, please arrange for a guest to sit with your child in the guest seating area during the ceremony.
Cap and Gown
Look your best on your special day. Please steam your gown before the ceremony. The tassel of the academic cap is worn on the right side for baccalaureate candidates and on the left side for master's candidates.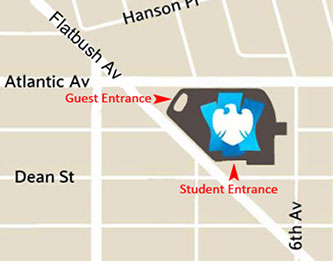 Guest Entrance–Mobile Ticket Required
8 a.m. – Guest entrance opens (mobile ticket required)
The guest entrance is at the Geico Atrium entrance of the Barclays Center, located at the corner of Flatbush Avenue and Atlantic Avenue. Seating is general admission on a first come, first served basis for guests with tickets.
Barclays Center provides accessible seating for guests, within specific sections, slightly separated from the other seating within the sections. Guests in need of accommodations should arrive early.
Parking
The Barclays Center is accessible by public transportation. Paid parking garages are located in close proximity to the Barclays Center. Please refer to the center's website at: https://www.barclayscenter.com/getting-here/parking-garages.
Social Media
You are encouraged to post your photos and videos of your participation in the commencement ceremony on social media using the hash tag #BCGrad2022.
Please be sure to follow the commencement team on Instagram @brooklyncollegegrad. Your photo may be featured!
Yearbook
Be sure to purchase the 2022 edition of Broeklundian: The Brooklyn College Yearbook. The yearbook can be purchased for $30 at https://link.entourageyearbooks.com/my/BCGrad2022.
Class Rings and Diploma Frames
To order an official Brooklyn College class ring or diploma frame, please visit www.Balfour.com.
Distribution of Diplomas
All graduates will be e-mailed when a digital version of their diploma is ready. This e-mail generally goes out 2-3 weeks after your degree shows as 'Awarded' in CUNYFirst. A physical diploma will be mailed out approximately 10-15 business days after you receive the e-mail. For more information visit the Graduation Audit page.
Exit Survey and Raffle for School Merchandise
You made it! However, your journey was not without bumps in the road and your final two years at the college were probably not ideal. We tried our best to adapt, but we want you to let us know how we did and what's next for you after graduating from Brooklyn College. Click here to provide us your feedback and help us improve our programs and services to other students. Those who participate will be entered into a raffle to receive school merchandise. We hope to hear from you, and wish you all the best as you embark on your new journey.
Alumni Information
After receiving your diploma, you can request an Alumni ID card. E-mail alumni@brooklyn.cuny.edu for details.