Sustainability Fair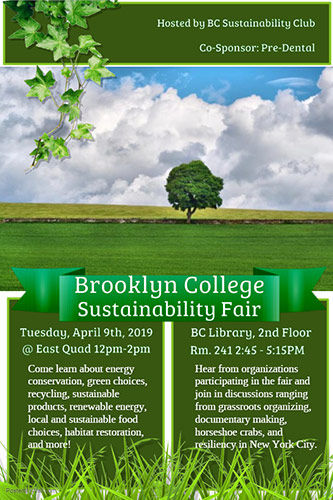 The Sustainability Fair is scheduled for April 9. Join us for a full afternoon of sustainability-related events.
Sustainability Fair
Hosted by BC Sustainability Club; co-sponsored by Pre-Dental
Noon–2 p.m.
East Quad
Come learn about energy conservation, green choices, recycling, sustainable products, renewable energy, local and sustainable food choices, habitat restoration, and more! Join several nonprofit organizations, city agencies, and others that will have tables with information about environmental conservation and sustainability.
Sustainability Lectures
2:45–5:15 p.m.
241 Library
Hear from organizations participating in the fair and join in the discussions on such topics as grassroots organizing, documentary making, horseshoe crabs, and resiliency in New York City presented in TED-style talks, and in facilitated discussions.