2018 Events
April 9: refashionNYC Bin
A refashionNYC bin will be PERMANENTLY installed in the Boylan Hall cafeteria. Every year, New York City residents throw away approximately 200,000 tons of clothes, towels, blankets, curtains, shoes, handbags, belts, and other textiles and apparel. refashionNYC is the city's official clothing reuse program, in partnership with the New York City Department of Sanitation and Housing Works, to make textile donations as easy as possible through a convenient in-building service. Contact ext. 5400 for more information or to report a bin issue.
April 11: Farm2Campus
Brooklyn College is bringing a weekly farm share to campus, in partnership with Corbin Hill Food Project. For only $15, you can subscribe to a farm share of six to eight items featuring fresh, healthy, locally grown vegetables and fruits. Signing up online is easy, and flexible payment options make it easy for you to cancel at any time. Be sure to sign up (make sure to select "BKC - Brooklyn College") one week in advance to guarantee pickup for the following week. Credit cards, checks, EBT, and Health Bucks are accepted. Don't miss out on the opportunity to access fresh, high-quality produce grown in the Northeast. Our distributions are Wednesdays, from 2:30 to 5 p.m. in the Boylan Hall Cafeteria. E-mail us for more information.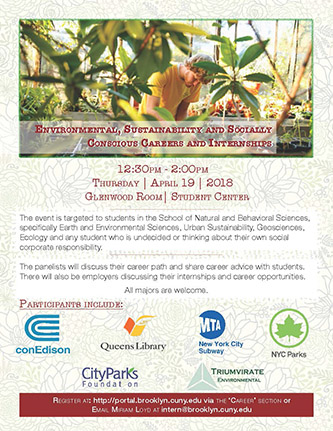 April 19: Magner Center Sustainability Careers Event
Occidental Lounge, fifth floor, Student Center, 12:30–2 p.m.
Panelists include:
Project Lead, Infrastructure Planning (a Brooklyn College alumnus), Con Edison
Sustainability & Energy Liaison (a Brooklyn College alumna), Queens Public Library
Associate Director of Environmental Education, City Parks Foundation
Chief Environmental Engineer, Capital Program Management, NYC Transit
Sustainable Project Coordinator, NYC Department of Parks & Recreation
Higher Education Niche Manager, Triumvirate Environmental
April 21: 11th Annual National Grid Earth Day Celebration
Weeksville Heritage Center, 158 Buffalo Avenue, Brooklyn
Brooklyn Center for the Performing Arts presents the 11th Annual National Grid Earth Day Celebration. Enjoy live music, arts and crafts, and street performers at this free community festival, where interactive family activities highlight the need for creating a more sustainable future and caring for the earth.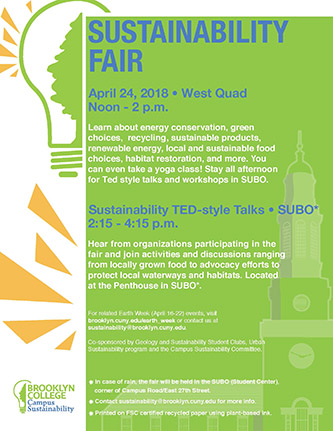 April 24: Sustainability Fair
West Quad, Noon–2 p.m.
More than 20 organizations will have tables with information about environmental conservation and sustainability.  Hosted by the Geology Society, STAT (Students for a Sustainable Today and Tomorrow), the Urban Sustainability program, and the Campus Sustainability Council.
April 24: TED-style Talks and Workshops
Penthouse, Student Center, 2:15–4:15 p.m.
Organizations participating in the fair will deliver lectures and facilitate discussions.
April 25: Walking Tour
Front steps of Ingersoll Hall, 10 a.m.
Assistant Professor of Philosophy Michael Menser leads a tour of the Brooklyn College campus. Participants will have the opportunity to meet the college's head landscaper as well as a local native plants gardener.
April 26: Bike Commuting 101 With Bike New York
4428 Ingersoll Hall, 12:15–2:15 p.m.
April 28: NYC Student Sustainability Conference
Hunter College (CUNY), 695 Park Avenue, Manhattan, Noon–3 p.m.
This conference will help bridge communication between the undergraduate student club The Sustainability Project with other sustainability-minded faculty and students in an effort to network through discussion about past and present sustainability efforts on New York City campuses.
May 1: Bike Repair and Pump Station
West Quad, between James Hall and the security gate, 12:30 p.m.
A short ribbon-cutting ceremony will open up this convenient service on campus.
May 3: Wasted! The Story of Food Waste
Boylan Hall Cafeteria, 12:15 p.m.
Join Professor of Sociology Tammy Lewis for a viewing of the film Wasted! The Story of Food Waste, featuring Anthony Bourdain.