In Memoriam
Share Your Thoughts and Memories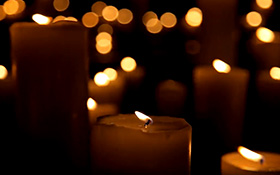 CUNY has invited all members of our community to submit thoughts and memories of those individuals who have passed on a special In Memoriam page.
Brooklyn College mourns the passing of members of our community who have been lost during the coronavirus pandemic.
Moshe Augenstein, a professor and undergraduate deputy chair in the Department of Computer and Information Science, had been at the college for 45 years. He joined the department while completing his Ph.D. and afterward became an assistant professor. He was known as soft-spoken, hard-working, and a gentle soul.
Professor Kenneth Axen passed away in September 2020. He taught in both the Health and Nutrition Sciences and Kinesiology programs as an adjunct professor for more than 20 years. He was known as a compassionate, available teacher who maintained contacts with many students long after they were in his class, supporting them in their lives and careers. His original thinking and ability to integrate math and basic science into his explanations made him a stimulating research mentor to undergraduates as well as doctoral candidates. Axen is survived by his wife, Kathleen Axen—a professor and chair of  Brooklyn College's Department of Health and Nutrition Sciences—and their children, Christine, Marie, and Nils; his daughter, Laurel; and his grandchildren; Lucia, Saachi, and baby Axel. In addition to being an accomplished pulmonary physiologist, Axen was known for his warm and giving personality as well as his interests outside his academic world. He loved photography and film. He exhibited his photography regularly and completed 50 credits in the art  at Brooklyn College, producing visually beautiful films and proudly receiving an award from the CUNY Film Festival for his film, Segues. Axen was also an accomplished book illustrator who created unique drawings in pencil and pen. Along with his photographs, he would joyously share them with his Instagram buddies. He was a person who loved to learn; for many years, he trained and performed theater improvisation with Ralph Buckley and "Just Say Yes!" His lifelong passion for travel took Axen to over 80 countries; most were long trips that he arranged himself. Trips often involved the family; summer camping in Europe included even the toddlers, and his dozens of bike trips ranged from a 1,000-mile journey through the Canadian Rockies (with Kathleen) to excursions through Southeast Asia and the Loire Valley with older children. In addition to teaching at Brooklyn College, Axen taught physiology and exercise physiology at New York University, where he was a tenured clinical associate professor of rehabilitation medicine, and at Hunter College, Long Island University, Pacific College of Oriental Medicine, and the National Yang-Ming Medical College (Taiwan). Axen especially appreciated his extended Brooklyn College family and was an active participant in Faculty Day and other campus events. He is remembered by many as a generous soul with an understanding heart. The outpouring from current and former Brooklyn College faculty was immense. A celebration of Kenneth Axen's life will be held in spring or summer 2021, once it is safe to do so.
Adjunct Professor Mark Blum, who taught in the M.F.A. in Acting program, had taught in the Department of Theater for the past 15 years. He enjoyed a long and distinguished career as a character actor and was beloved by all who learned from him.
Renowned physicist Peter J. Brancazio, who taught at Brooklyn College for more than 30 years, passed away at age 81. He gained celebrity for debunking myths surrounding the "rising fastball" as well as the length of Michael Jordan's hang time. He began his teaching career at Brooklyn College in 1963—as the director of the observatory—while working toward his Ph.D. in astrophysics from New York University. Among his many recognitions, he was awarded a Tow Professorship, reserved for Brooklyn College faculty whose talents and accomplishments are of a particularly high order. An avid athlete, Brancazio was a fixture on the basketball court for years until his hips stopped cooperating, and then took up tennis, which he enjoyed for the rest of his life. He made many lasting friendships among his tennis partners. He shared his love of sports with his two sons, spending many years as a youth baseball and basketball coach. One of Brancazio's colleagues, retired professor Arnold Markoe, said: "Peter was a close friend, a masterful teacher. and a beloved mentor to decades of students. Peter dearly loved his wife of 57 years, his family, travel, opera, and his Italian heritage."
Jay Jankelewicz '13 was the office manager in the Department of Philosophy. He began working at the college as a college assistant in 2012 before transitioning to his full-time position. As a student, he was a Presidential Scholar and a member of various clubs, including the Marketing Society and the Brooklyn College Computer Science Society. He received a bachelor's degree in business, management and finance, and in multimedia computing. Jay was named Employee of the Month in June 2019. He recently completed a master's degree in library information science from Simmons University, of which he was particularly proud. He was the backbone of the Philosophy Department and is remembered for his friendliness, sense of humor, and passion for the college and its students.
Juliet Manragh '07 was the human resources manager for recruitment and employee relations. She worked at the college for more than 12 years and had received her bachelor of arts degree in Africana studies. She played a critical role in helping to fill vacancies as well as coordinating efforts for the annual Staff Appreciation Day. She was known as a quiet and supportive colleague who went above and beyond her duties and always had a warm smile.
James (Jim) Pletcher, lecturer of classics, grew up in Pittsburgh. He received his B.A. in Greek and Latin from the University of Pennsylvania before getting his M.A. and Ph.D. in classics at the University of St. Andrews. Joining the teaching faculty at Brooklyn College in 2002, Pletcher received a Certificate of Continuous Employment as a classics lecturer in 2011. During his nearly 20 years of service at the college, he taught thousands of students, most of whom took his popular general education courses. A charismatic and popular lecturer, he inspired many with his passion for classical literature. He passed away just after completing the spring 2020 semester, during which he made a series of wonderful and heartfelt videos for his students. He was renowned for his love of meaningful conversation, his abhorrence of injustice, and his sense of humor. No matter where he traveled in the world, he always spread his love and extensive knowledge of music and Pittsburgh sports (the Pirates, Penguins, and Steelers). He will be missed.
Paul Shelden, professor emeritus of music, passed away after a long battle with Parkinson's disease, complicated by COVID-19. He was a gifted and respected clarinetist, saxophonist, flutist, conductor, arranger, and educator. As professor of music, he taught for 34 years at the Conservatory of Music at Brooklyn College. He also served as director of music in the college's former School of General Studies, as assistant dean for research and graduate studies, and founded the conservatory's clarinet quartet, among other roles. Shelden is remembered by his former colleagues and friends for his good humor, his caring teaching, and his kind and thoughtful nature.
As an undergraduate, Professor Aaron Tenenbaum '70 was a mathematics major and was elected to Phi Beta Kappa. After graduating from New York University's Courant Institute in 1974, Tenenbaum was hired as an assistant professor in the recently formed Computer and Information Science (CIS) Department at Brooklyn College. Together with the other young graduates hired at that time, he helped shape the curriculum for the new department. He was an excellent teacher and soon developed a specialty in the crucial data structures course. Over the next 10 to 15 years, with his colleagues Moshe Augenstein and then Yedidyah Langsam, he wrote a series of books on this topic, some of which are still in use today. These books have been translated into five languages and at one time were the best-selling computer science textbooks in the United States. Tenenbaum became chair of the CIS Department in 1985 and served in that role for almost 25 years. During this time, the department underwent an explosive growth in students, faculty, and research activity, adding a number of new undergraduate and graduate majors. He leaves a legacy in the college and department as an activist for academic excellence.