Cleared4 Account Instructions
About Cleared4 at CUNY
All students, faculty, and staff must present a valid CUNY ID (via BC Navigator or physical card) and either vaccination verification or, in some cases, a negative COVID-19 test status to access campus. Cleared4 is the health verification platform used to manage the CUNY testing program. It provides an access credential for CUNY facilities that reflects your uploaded vaccination status and/or a negative test result.
There are three situations for which you will need your Cleared4 account:
You are unable to access the BC Navigator App, either due to technical issues or not having a smartphone, and must present the Cleared4 access pass to enter campus.
You lose access to your green key icon, either due to COVID-19 exposure or failure to report for random testing within 7 days of being selected, and must schedule a testing appointment.
To update profile information and notification settings. Failure to complete your profile will prevent you from viewing test results, or from receiving notifications via SMS messaging.
It is important that you claim your Cleared4 Access Pass, as most members of our campus community will need to use Cleared4 due to one or multiple of these scenarios.
How to Qualify for a Cleared4 CUNY Access Pass
Before you can claim your Cleared4 pass, you must qualify for it. To do so, CUNY students, faculty, and staff must upload their vaccination record(s) to CUNYfirst. Once approved, Cleared4 generates an access pass for fully vaccinated individuals and unvaccinated individuals who provide a negative test result from a CUNY testing site within the prior 7 days.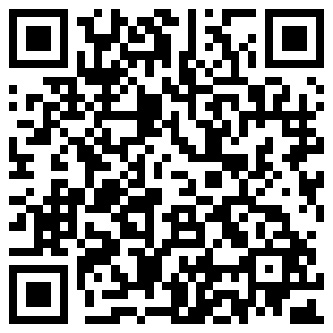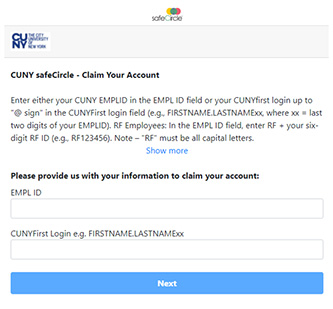 How to Get Your Cleared4 CUNY Access Pass
There are two methods to claim your Cleared4 CUNY Access Pass:
Via scanning this QR code
You will then be prompted to enter your EMPLID and your CUNYfirst Login. This typically takes the format of FIRSTNAME.LASTNAMExx, with the xx being two numbers. Use all capital letters when entering this information.
For RF Employees, you must type the letters "RF" followed by your six-digit RF ID, (e.g., RF123456). Note that "RF" must be in all capital letters.
Once you've entered your information, you will receive an email and/or a text message that includes your Cleared4 personalized profile link. You will also be able to access your Access Pass and update your profile by clicking hyperlink (personal link). Ensure your correct cell phone number and email address are listed. Critical information – including selection for random testing – is sent via text, so we highly recommend you opt in to notifications and SMS alerts.
How to Add a Cleared4 icon to Your Phone's Home Screen
To get started, you need to open the welcome e-mail you received from Cleared4. The e-mail should have the subject "Welcome to safeCircle at CUNY" from
no-reply@cleared4work.com. Click the personalized link in the e-mail to open your Cleared4 page.
iOS
Open your Cleared4 link in Safari (not Chrome)
Tap the share button
Tap "Add to Home Screen" (scroll down, if needed)
Optionally, edit the name (e.g. "Cleared4")
Click "Add"
Android
Open your Cleared4 link
Tap the menu icon (3 dots in upper right corner)
Tap "Add to Home Screen"
Optionally, edit the name (e.g. "Cleared4")
Click "Add"
Need Assistance?