Jeffrey Biegel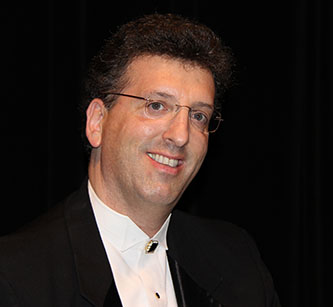 Adjunct Associate Professor, Piano
Since 1999, Jeffrey Biegel has commissioned ten composers to bring new music for piano and orchestra to the repertoire. On February 10, 2019, Kenneth Fuchs's piano concerto Spiritualist, performed with the London Symphony Orchestra led by JoAnn Fallettaand featuring Mr. Biegel as its soloist, garnered a Grammy win in the Best Classical Compendium category.
The fascinating career of Jeffrey Biegel takes its roots from the beginning. Until the age of three, Mr. Biegel could neither hear nor speak, until his condition was corrected by surgery. The "reverse Beethoven" phenomenon explains his life in music, having heard only vibrations in his formative years.
Among his recent recordings and performances, Mr. Biegel performed the World Premiere of Giovanni Allevi's 'Concerto for Piano and Orchestra' with Orchestra Kentucky and in Milan's Teatro dal Vermes, recording with Orchestra Sinfonica Italiana. During 2018, Naxos released Kenneth Fuchs's Grammy-winning recording, "Piano Concerto: Spiritualist" and, he performed the World Premiere of Christopher Theofanidis's "Concerto no. 2 for Piano and Orchestra" with the Harrisburg Symphony Orchestra, Stuart Malina conducting. In 2019, Grammy winning composer, Dick Tunney unveils the new "Peanuts Concerto" for piano and orchestra based on music by Vince Guaraldi for its World Premiere with Orchestra Kentucky and Mr. Biegel. Equally championing pop music icons, Mr. Biegel has brought Jimmy Webb's 'Nocturne for Piano and Orchestra' to the public and, PDQ Bach's 'Concerto for Simply Grand Piano and Orchestra' by Peter Schickele with the Colorado Symphony Orchestra. The first solo digital recording on Mr. Biegel's Naturally Sharp label will be released in 2019, and, in 2020, he will premiere Jim Stephenson's first piano concerto, tentatively titled, "Water"- in both its life-sustaining and destructive forces.
On February 22, 2015, Moravian College in Bethlehem, PA, conferred the Honorary Degree of Doctor of Humane Letters upon Mr. Biegel, for his achievements as the most respected prolific artist of his generation in performance, recordings, chamber music collaborator, champion of new music, composer, arranger and educator. Mr. Biegel is respected for his incomparable performances of the standard works for piano and orchestra, and has become the 'go to' pianist for new compositions and special recording projects. 2015 saw the release of Lucas Richman's 'Piano Concerto: In Truth' with Maestro Richman conducting the Pittsburgh Symphony Orchestra, William Bolcom's "Prometheus" for Piano, Orchestra and Chorus with the Pacific Symphony Orchestra and Pacific Chorale, E1 label's release of 'Volume 2: The Complete Sonatas for Piano by Mozart' and, Steve Barta's 'Symphonic Arrangement' of Claude Bolling's 'Suite for Flute and Jazz Piano no. 1' with the renowned jazz flutist, Hubert Laws. He performed two World Premieres for piano and orchestra with Orchestra Kentucky, conducted by Jeff Reed: Peter Tork's 'Moderato ma non troppo', and, Nashville's Grammy winning composer, Dick Tunney's 'Concerto for Piano and Orchestra: The Monkees'. (Mr. Tork is a member of the legendary rock group, The Monkees). Mr. Biegel's artistry attracted the attention of the world's most sought after producer/arranger/composer, David Foster, who introduced Mr. Biegel to Jeremy Lubbock, whose orchestrations form the sonic landscape for many chart-topping, Grammy winning recordings by legendary pop music artists. After listening to a 'live' demo recording of Mr. Biegel's performance of Rachmaninov's 'Concerto no. 3', Jeremy Lubbock offered to compose a new opus especially for Mr. Biegel, which had resulted in the World Premiere of Mr. Lubbock's 'Moods: a duet for piano and strings', with Donald Spieth leading the Moravian College Orchestra in 2015. The recording company, Naxos, offered Mr. Biegel the unique opportunity to record a compilation of works with Paul Phillips conducting the Brown University Orchestra released in January 2016. This project includes the original 1924 piano part for George Gershwin's 'Rhapsody in Blue', Maurice Peress' orchestration of Duke Ellington's 'New World A-Coming', Keith Emerson's 'Concerto no. 1', and Neil Sedaka's 'Manhattan Intermezzo' featuring Mr. Biegel's additions to the piano part, meeting Mr. Sedaka's approval. Additional Naxos discography includes Leroy Anderson's 'Concerto in C' with Leonard Slatkin conducting the BBC Concert Orchestra, Ellen Taaffe Zwilich's 'Millennium Fantasy' and 'Peanuts Gallery', Kenneth Fuchs's 'Falling Trio', Vivaldi's 'Four Seasons' and Cesar Cui's '25 Preludes'. Koch Records' 'Classical Carols', is a holiday recording merging well known piano music with traditional holiday carols, arranged by Carolyne M. Taylor.
Chosen the first pianist to record for the Steinway & Sons recording label, Mr. Biegel's 'Bach On a Steinway' debuted #3 on the Classical Billboard charts, followed by 'A Steinway Christmas Album' reaching the #1 spot on the Billboard chart. This was followed with a tribute to the Golden Age pianists for Steinway's release, 'A Grand Romance', featuring knuckle-busters performed by the great pianists of the early 20th century. In 1997, he created and performed the first live audio/video r ecitals on the internet from Steinway Hall in New York, and the recording is preserved on a recording bearing the website name at that time, 'cyberecital.com'. The videos from these historic recitals are available on Mr. Biegel's website and YouTube.
In the world of chamber music, his most recent creation is the Dicterow-DeMaine-Biegel piano trio, joined by violinist Glenn Dicterow and cellist Robert DeMaine. Their debut on the Chamber Music Society of Fort Worth series garnered accolades from Olin Chism and Gregory Sullivan Isaacs in their reviews.
As a pioneer of commissioning projects joining multitudes of orchestras as a model for commissioning new music in the 21st century, Mr. Biegel created the first largest consortium of orchestras in 1998 toward bringing a new work to audiences in 2000. He brought 27 orchestras into the largest commissioning project up until that time, for Ellen Taaffe Zwilich's 'Millennium Fantasy' premiered with the Cincinnati Symphony Orchestra in 2000. In 2000, he decided to go one step further and create the first 50 state project with Tony award winning composer, Charles Strouse's 'Concerto America'. Every orchestra in the USA received the press release announcing the 'Concerto America Project'. The tragic events of September 11, 2001, made Mr. Biegel realize that the timing for such an endeavor was inappropriate. The Boston Pops, conducted by Keith Lockhart, delivered a brilliant World Premiere in June 2002, followed by a performance with the former Honolulu Symphony Orchestra. Taking commissioning to a new level, Mr. Biegel created a new project joining 17 orchestras in the USA with 1 orchestra in Germany, representing the European Premiere for Lowell Liebermann's 'Concerto no. 3, Opus 95'. The Milwaukee Symphony Orchestra with Maestro Andreas Delfs gave the premiere in 2006, followed by the Landestheater Sinfonieorchester Schleswig-Holstein in Germany, conducted by Gerard Oskamp. In 2010, Mr. Biegel performed the World Premiere of William Bolcom's 'Prometheus' for piano, orchestra and chorus, with Carl St. Clair leading the Pacific Symphony Orchestra and Pacific Chorale, followed with performances by the Detroit Symphony Orchestra led by Leonard Slatkin, the Calgary Philharmonic and Chorus representing the Canadian commissioning member orchestra, and several more involved in this project. In addition, Mr. Biegel gave the World Premiere of Richard Danielpour's 'Mirrors' with the Pacific Symphony Orchestra, also with Maestro St. Clair conducting. During the 2015-16 season, Mr. Biegel performed the World Premiere of Kenneth Fuchs's "Piano Concerto: 'Spiritualist'" based on three paintings by American abstract artist, Helen Frankenthaler, with orchestras in the USA including the Springfield Symphony Orchestra (MA) and the Wheeling Symphony Orchestra.
Further developing the repertoire by some of the finest composers of our time, Mr. Biegel returned one decade later in 2010 to Pulitzer Prize composer, Ellen Taaffe Zwilich, for a new commissioning project. 'Shadows' features piano, orchestra and one percussionist on drum set, djembe and crotales. The piece reflects the many who emigrate from their homeland to new lands, bringing their native cultures, music, language and styles with them, hence creating 'shadows' of their heritage in their new homeland. The Louisiana Philharmonic Orchestra presented the World Premiere in 2011, with Maestro Carlos Miguel Prieto conducting. Kevin Rhodes lead the Pro Arte Chamber Orchestra (also a member of the commissioning project), with Mr. Biegel's son, Evan, then only 16, in his debut as percussion soloist in 2013. In 2013, composer/conductor Lucas Richman, composed his 'Piano Concerto: In Truth' exclusively for Mr. Biegel, which received its premiere in 2013 with the Knoxville Symphony Orchestra, composer conducting.
During a rehearsal of Mr. Bolcom's 'Prometheus' with Vocal Essence in Minneapolis' Orchestra Hall, Mr. Biegel met the young composer, Jake Runestad. A lunch meeting with Jake prompted Mr. Biegel to invite Jake to be his next focus for a commissioning project. As a result, Mr. Runestad brought a very significant theme to the project, honoring veterans of war, dealing with their strife returning to the world they once knew. Jake created a monumental composition for piano, orchestra and chorus, teaming up with war veteran and renowned poet, Brian Turner. 'Dreams of the Fallen' received its World Premiere with the Louisiana Philharmonic Orchestra and Symphony Chorus of New Orleans at the National WWII Museum on Veterans Day 2013, conducted by the respected American maestro, James Paul.
Mr. Biegel has also transcribed Balakirev's 'Islamey Fantasy' for piano and orchestra, premiered with the American Symphony Orchestra in 2001, and also arranged the virtuosic piano part for Billy Joel's 'Symphonic Fantasies' in 2006, with performances at the Eastern Music Festival, the Boris Brott Festival and with the Indianapolis, Harrisburg, and other US orchestras. In addition, he substituted for the late pianist John Browning to perform the World Premiere of Marjorie Rusche's 'Dreaming the Rag Waltz Blues' and Beethoven's 'Concerto no. 1 in C Major' with the South Bend Symphony Orchestra conducted by Tsung Yeh, and performed the World Premiere of Daniel Dorff's 'Concerto no. 1', composed for Mr. Biegel, with the Etowah Youth Orchestra, Mike Gagliardo conducting.
An avid composer, Mr. Biegel and his son, Craig, co-composed 'The World In Our Hands', published by the Hal Leonard Corporation. It reflects the events of 9-11 with a vision for hope and peace, and has been performed in Africa, Ireland, and throughout the U.S. The Hal Leonard Corporation has also published 'Christmas In A Minute', an SATB choral version of Chopin's 'Minute Waltz' as well as his arrangement of 'The Twelve Days of Christmas' for SATB divisi a cappella choir, and, 'Hanukah Fantasy' for SATB/piano (orchestration by Lucas Richman available through The LeDor Group). The orchestration for 'Christmas In A Minute' by Kermit Poling is available through Lauren Keiser Music, which can be performed by soloist and orchestra, or with choir and orchestra. Mr. Biegel received a commission to compose a new work for SSA choir with the chosen text, 'Hey Ho, The Wind and the Rain' from William Shakespeare's 'Twelfth Night', and is published by the Hal Leonard Corporation. 'Hey Ho, The Wind and the Rain' is featured on a new CD recorded by Voci Nobili, the prize-winning Norwegian women's choir conducted by Maria Helbekkmo. Voci Nobili also performed the work in New York's Merkin Hall. His most recent choral compositions include 'There Shines a Light Ahead' for SATB/piano published by Porfiri & Horvath in 2013, an arrangement of 'The Christmas Song' for SATB a cappella choir, and both 'Ho Ho Hanukah, Ho Ho Christmas' and 'A Different Kind of Hero' are published by Carl Fischer Inc. 'Four Psalms for SATB Choir' are published and available at JW Pepper's My Score for Mr. Biegel, along with 'The 'Elegy of Anne Boleyn' and 'Auld Lang Syne' for piano solo and for SATB choir and piano. In addition, Artaria publishes his editions of Cesar Cui's '25 Preludes' (cd available through Naxos) and Antoine Reicha's 'Symphonie Concertante pour Deux Violoncelles et Orchestre'. His editions for Schirmer's Performance Editions include Schumann's 'Scenes from Childhood', 'The Sonatina Album, 'Tschaikowsky's 'Nutcracker Suite' and Prokofiev's 'Music for Children, Opus 65' with accompanying audio cds.
Mr. Biegel's Swiss debut featured Duke Ellington's 'New World A-Coming' with the Orchestre de la Suisse Romande in Geneva, Pinchas Steinberg conducting. On January 8, 2001, he appeared on ABC-TV's Good Morning America, followed by a performance with the American Symphony Orchestra led by the late Vahktang Jordania in New York's Avery Fisher Hall. The program featured the World Premiere of Mr. Biegel's transcription of Mily Balakirev's 'Islamey Fantasy' for piano and orchestra, the restored original 1924 manuscript of George Gershwin's 'Rhapsody in Blue' and Ellen Taaffe Zwilich's 'Peanuts Gallery'. PianoDisc (the player piano system) has released Mr. Biegel's recording, 'Rare Gems of the Golden Age', 'Best of David Foster', 'Best of Josh Groban', and 'Classical Carols' along with IQ dvd videos featuring works by Beethoven, Chopin and Liszt.
In 1997, he performed the original 1924 manuscript of Gershwin's 'Rhapsody in Blue' with the Boston Pops (covered by CNN, ABC-TV, NPR, CBC Canada, Associated Press and USA Today). He has subsequently performed the 1924 manuscript with orchestras across the United States, including the St. Louis Symphony, and the Israel Chamber Orchestra conducted by Philippe Entremont at the Kravis Center (West Palm Beach, Florida). He has also presented the German Premiere of the work with the Bochumer Symphoniker and the Scandinavian Premiere with the Bergen Philharmonic in Norway.
Mr. Biegel has recorded the World Premiere of composer Lalo Schifrin's 'Piano Concerto No. 2 - The Americas' with the Bayerischer Rundfunk (Munich Radio Orchestra). This is featured in the current motion picture soundtrack titled 'Something to Believe In', released on Aleph Records. In addition, he has performed with the Philadelphia Orchestra, the Saint Louis, Pittsburgh, Milwaukee, Cincinnati and the National Symphony Orchestras, the Tokyo, New Japan, Hong Kong, Oslo, Bergen, Buffalo and BBC Philharmonics, Singapore Symphony, Danish National Radio Orchestra, the Ulster Orchestra, Orchestre de Monte Carlo, Orchestre de Radio France, Orchestre des Concerts Lamoureux, Palermo's Orchestra della Teatro Massimo, Turkey's Istanbul Symphony, Presidential Symphony Orchestra, Izmir Symphony and the Ensemble Orchestral de France in Paris' Theatre des Champs-Elysees.
In 1985, Leonard Bernstein said of pianist Jeffrey Biegel: "He played fantastic Liszt. He is a splendid musician and a brilliant performer." These comments helped to launch Mr. Biegel's 1986 New York recital debut, as the recipient of the coveted Juilliard William Petschek Piano Debut Award, in Lincoln Center for the Performing Arts' Alice Tully Hall. He was the unanimous recipient of the prestigious First Grand Prize in the 1989 Marguerite Long International Piano Competition and the First Prize in the 1985 William Kapell/University of Maryland International Piano Competition. He studied at The Juilliard School with Adele Marcus, herself a pupil of Josef Lhevinne and Artur Schnabel. He made his New York orchestral debut performing Prokofiev's 'Concerto no. 2 in g minor' with the Juilliard Philharmonia, in Lincoln Center's Alice Tully Hall, conducted by the late Sixten Ehrling.
Mr. Biegel is currently on the piano faculty at the Brooklyn Conservatory of Music at Brooklyn College, a City University of New York (CUNY). He resides in New York with his wife, Sharon, and their sons Craig and Evan.
Other links: