Early Childhood Center Programs
The Brooklyn College Early Childhood Center is open for the 2022-2023 school year enrolling Brooklyn College student families, faculty, staff and community. Priority will be given to full-time Brooklyn College students who are grant eligible.
Hours of Operation
Infants-Threes - Mondays-Fridays: 8:30 a.m.-4:30 p.m.
UPK - Mondays-Fridays: 8:30 a.m.-3 p.m.

Extended Hours, Mondays-Fridays: 3 p.m.-4:30 p.m. (fees apply)
Our Classroom
Fours/Pre-K classroom: Our state-funded pre-k classroom will be open to Brooklyn College and community families and follows the DOE calendar.
Mixed Age Twos/Threes classroom: Our Twos/Threes classroom will welcome students ages two to three.
Ones classroom: Our Ones classroom welcomes children who have turned one and are walking.
Infants Room: The Infants Classroom enrolls children beginning at four months of age.
If interested in our program e-mail Cathleen Philbert, administrative assistant.
About Us
The Early Childhood Center (ECC) Programs at Brooklyn College were established in 1953 as the Laboratory School of the Early Childhood School of Education.
The center provides a space for students to explore questions of child development and to study the contributions of educational, social, and cultural environments to support children's growth and learning. The ECC offers day programs for infants, toddlers, and preschool-age children. Parents and family members are actively involved in their children's education at the center. The ECC also offers instructional, observational, and research opportunities for students, interns, and faculty at Brooklyn College.
The learning experiences of our program follow developmentally appropriate practices both indoors and outside. Children learn and develop through play. At the ECC, outdoor time is considered a natural extension of the indoor work and play of the children. All developmental areas are addressed and learning is fully experienced within multiple domains of development—including but not limited to gross and fine motor explorations, cognition and perception, language and communicative skills, social/emotional development, and sensory integration.
Our indoor and outdoor environments support maximum creativity and imagination where bodies, minds, and spirits are fostered and informed by research and practices from a variety of local and international pedagogies that are committed to improving early childhood education and care for ethnically and linguistically diverse young children, with and without special needs, and their families. The ECC is rooted in a commitment to the inclusion and celebration of differences of all kinds, to multilingual and multicultural education, and to early intervention. In service of these goals the arts, aesthetic education, and play are at the heart of the ECC curriculum.
Early Learning Environments After COVID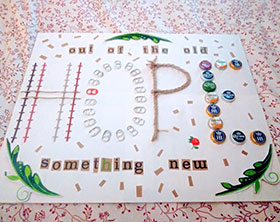 Early care and education providers are re-entering their classrooms and considering how to make them safe, welcoming places for young children.
Contact Information
1604 James Hall
Brooklyn, New York 11210
P: 718.951.5431
F: 718.951.4658
Office Manager
Administrative Assistant
Early Childhood Program Adapts to Online
Interim Acting Director / Educational Director Colleen Goddard and one of the center's teachers, Samantha Baptiste, spoke to the Vanguard about the challenges the ECC faces during the pandemic.
Enriching Education Through the Art of Play and Wonderment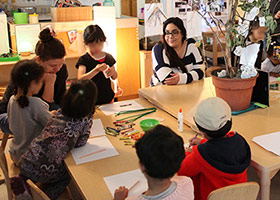 The Early Childhood Center and the Early Childhood Education/Art Education Department have launched a new annual conference—and are spearheading a different approach to teaching.