CUNY LEADS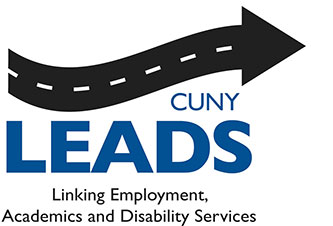 What Is CUNY LEADS?
CUNY LEADS is a program that was established to facilitate positive career outcomes for students with disabilities. The program was born in 2007, initially as a three-year grant; in 2010 it became a line item in the New York State Budget. In addition to its services, CUNY LEADS also ensures that there are advisers on every CUNY campus as well a job developer in each borough. Find out more by visiting the CUNY LEADS website.
How Can CUNY LEADS at Help You?
With the program's focus on engaging with students with disabilities, the services that are provided revolve around job readiness, career development, and opportunity procurement. Below are some of the core service that CUNY LEADS offers:
Career advising
Résumé preparation
Interview preparation
Networking opportunities
Job-seeking assistance
Self-advocacy skills/disclosure
Referral assistance
Job development
What Is a Job Developer?
Embedded into CUNY LEADS is a job developer in each borough of New York City whose role is to work with students with disabilities. Students are referred to them by CUNY LEADS advisers and can meet with them either at Brooklyn College or their home campus. After meeting with both career counselors and the job developer, students should be familiar with ways to search for job opportunities.
How Does It Differ From the Magner Career Center?
The Magner Career Center provides general career services and events to support Brooklyn College's 16,000+ students. The CUNY LEADS staff's expertise and resources provides additional and specialized support to students with disabilities.
Who May Be Eligible?
There are only a few items for qualifying for CUNY LEADS. Firstly, students who are enrolled in either degree and nondegree programs, or graduates who earned their degree within the last year, must have a documented disability. Students do not have to be registered with the Center for Student Disability Services in order to qualify for the program. If you meet this criteria, then you are wholly encouraged to take advantage of all that program can offer.
Useful Sites and Additional Information
To Find Out More and Apply
If you are interested in learning more about CUNY LEADS, reach out to either Nelmy Pichardo or Trivis Laurore.
Nelmy Pichardo, CUNY LEADS Counselor
E: Nelmy.pichardo62@brooklyn.cuny.edu
P: 718.951.5538
Trivis Laurore, CUNY LEADS Job Developer
E: Trivis.laurore@brooklyn.cuny.edu
P: 718.951.5538