How to Look Up Your Financial Advisor
Every admitted and enrolled Brooklyn College student who files a FAFSA is assigned a financial aid advisor. You can now conveniently check your advisor's name and schedule an appointment through the Brooklyn College WebCentral Portal.

Step 2 
Log into the Brooklyn College WebCentral Portal. If you are a new user, click on the "Create an Account" link and follow the prompts to create an account.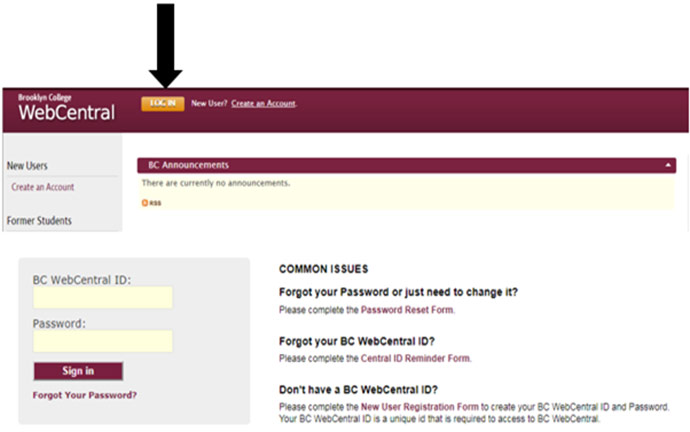 Step 3 
Navigate to "MY INFO" on the left panel and select "MY ADVISEMENT NOTES."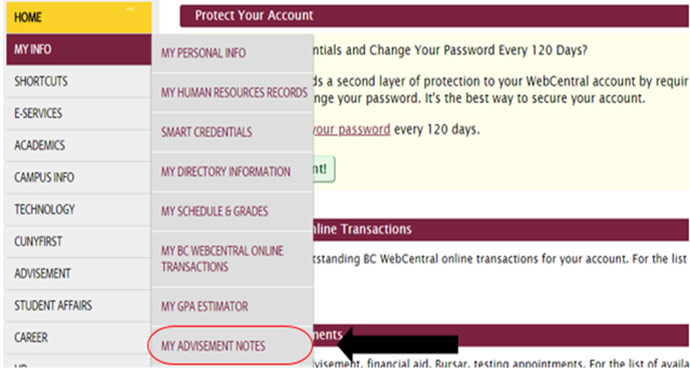 Step 4 
You are now able to see your financial aid advisor's name along with his or her e-mail. If you would like to schedule an appointment with your adviser, click on E-Services → Schedule an Appointment → Financial Aid Specialists (FAST).
If you recently filed a FAFSA, you will be assigned a financial aid advisor within seven business days. Meanwhile, feel free to schedule an appointment with any advisor.
Note
For detailed instructions, refer to How to Schedule an Appointment With Your Financial Aid Advisor (pdf).

Additional Information 
Need help completing the FAFSA?
The Office of Financial Aid provides FAFSA and TAP application filing workshops.
Answers to financial aid questions are just a click (FATV) and step (ESC) away!
FATV: Watch our videos and learn all you need to know about paying your college tuition.
ESC: If you need assistance with general questions or need to submit documents, visit the Enrollment Service Center (ESC) on the first floor of the West Quad Center and take a ticket for Financial Aid.