Black Solidarity Day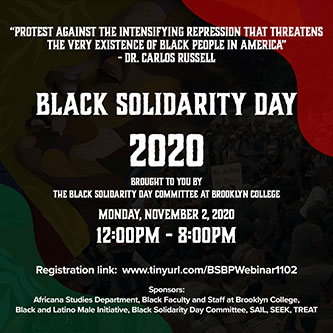 Protest against the intensifying repression that threatens the very existence of Black people in America.
— Carlos Russell
Every Monday before elections we celebrate Black Solidarity Day, founded by former Panamanian ambassador to the United Nations, and Brooklyn College Professor, Carlos Russell. His call to "protest against the intensifying repression that threatens the very existence of black people in America" is being echoed across the world today.
It was first observed on November 3, 1969, against the backdrop of the Black Power Movement and a post-Civil-Rights-era America, strategically observed one day prior to elections day.
Carlos Russell's Legacy—51 Years Later: Black Solidarity and Black Power Through Education
Monday, November 2, 2020
Noon–8 p.m. (various sessions)
Sponsors
Department of Africana Studies, Black Faculty and Staff @ Brooklyn College, Black and Latino Male Initiative, Black Solidarity Day Committee, SAIL, SEEK, TREAT
Schedule
Noon–12:30 p.m.—Opening
Black Solidarity Day Greetings from Brooklyn College—Ronald Jackson, Vice President for Student Affairs
History of Black Solidarity Day and its present-day context—Khari Russell, son of BSD founder Carlos Russell
Importance of Voting—Crystal Schloss, Chair of Black Faculty & Staff @ Brooklyn College
12:30–2:05 p.m.—Keynote: Black Power and Solidarity in the Age of Black Lives Matter
Jermaine McCalpin, Pan-African and Genocide Scholar, African and African American Studies Program at New Jersey City University
3–4:15 p.m.—Resources for the Success of Black Students
Identifying the resources and support needed and that are already available to ensure the success of black students.
William Anders, University Director, CUNY, NYC Men Teach
Shomari Akil, Restorative Practice Director for the New York City Department of Education within the Office of Safety and Youth Development
Clarence Ellis, Superintendent of District 17, Brooklyn
Facilitator: April Bedford, Dean, School of Education, Brooklyn College
4:30–6 p.m.—Culturally Competent Approaches to Education
Discussion on the importance of a culturally competent approach to educating our students; identifying best practices and challenges to a wholistic approach which includes teaching, advising, and counseling.
Zakiyyah Ali, CEO, Zakiyyah Ali Educational Consulting, LLC
Donna Dockery, Facilitator at Consciously Unbiased and Adjunct Professor, Psychology, Brooklyn College
Donna-Lee Granville, Assistant Director, Center for Teacher Learning and Assistant Professor, Sociology, Brooklyn College 
6–6:25 p.m.—When the Campus Is Lit
The history of black student engagement and how it helps to transform larger movements.
Dane Peters, Adjunct Professor, Africana Studies, Brooklyn College
6:30–8 p.m.—Education for Liberation
A discussion on the role of Africana Studies in truth telling, identity development, and career advancement.
Ornesha Watson, PharmaD, Pharmacist
Aleah Ranjitsingh, Adjunct Professor, Africana Studies, Brooklyn College
Robert Jones, Jr., Author
Jefferey Severe, Special Assistant to the NYC Public Advocate
David Balan, Ed.M Candidate at Harvard University, Graphic Designer
Facilitator: Trina Lynn Yearwood, Associate Dean, School of Education, LIU Brooklyn and Adjunct Professor, Department of Africana Studies, Brooklyn College