CUNY #daylighthour 2021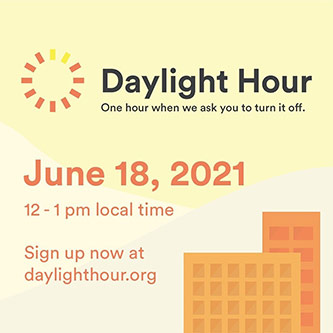 June 18, 2021, noon–1 p.m.
8th annual Daylight Hour 2021 Recap: 398 Registrants, 28 US States Represented, 19 Countries Represented, see the 2021 Award Winners. Showcase your creativity saving energy in your spaces, register and post your participation. The #daylighthour pledge is simple: turn off non-essential electronics and lighting for one hour.
Usually every year, Facilities helps the college close the budget gap and achieve significant savings through a variety of energy conservation efforts. These include:
scheduling start/stop of equipment;
repairing or replacing inefficient equipment;
installing motion sensory;
managing peak load events;
using computerized energy management systems to control heating and cooling;
upgrading windows to control heat loss and heat load; and
installing motion sensors to control lighting.
Test your lighting knowledge with the latest quiz from the U.S. Department of Energy, take the Lighting IQ test!