The M.S. in business administration graduate says she is leaving with a good grounding in business ethics.
/web/new_2019news/150528_Journey_Nisreen_94x84.jpg.jpeg
Twice as Nice: Business Student Nisreen Ennab '18 Goes for Her Master's Degree
May 28, 2019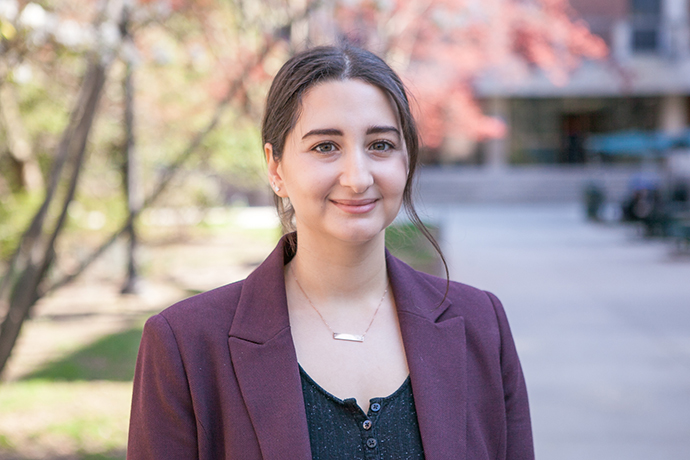 As they prepare for the next stages of their lives, members of the Brooklyn College Class of 2019 share their thoughts on some of the most pertinent issues facing the world today. For more on this year's commencement, visit our Facebook, Instagram, and Twitter. Use the #BCGrad2019 hashtag to join the conversation.
As soon as Nisreen Ennab '18 toured Brooklyn College, she knew she wanted to attend. It felt like home. The business school also had an excellent reputation.
"Growing up and living in Brooklyn my whole life I was excited that there was a reputable college in my city that was not only affordable but had an incredibly beautiful campus," she says.
Ennab got her undergraduate degree, magna cum laude, in business marketing last year and immediately began the master of science in business intelligence and data analysis in the fall.
"Brooklyn College has allowed me to complete my undergraduate degree, and go on to my graduate degree," she says. "Many other graduate programs outside of Brooklyn College often come with exorbitant tuition fees that I would have had to pay off for the rest of my life. I am grateful for the people who have given back to Brooklyn College, specifically the Murray Koppelman School of Business. I was able to have access to many business programs and more because of the school and its donors. They have definitely sparked my civic engagement and inspired me to give back," she adds.
In her time at Brooklyn College, Ennab has volunteered with the charity and veterans service organization, The Wounded Warrior Project, and has been on the Dean's List. She has also had internships at Kenwerks, Inc. a fashion, public relations and marketing firm, and Neapolitan Express.
She says that her studies and experiences at Brooklyn College—taking courses in corporate social responsibility and reading countless case studies of corporations that acted unethically and ended up receiving backlash—have instilled in her a real sense of business ethics.
"I will always, to the best of my ability, make sure I fulfill the obligation that I believe one has to others to act ethically and responsibly in one's profession whether it be through practicing transparency and honesty, or even being respectful to the environment by using clean energy," she says.
Back to BC News