Schedule Builder
Creating a Schedule That Suits Your Needs
Is picking the perfect schedule frustrating? Can't find classes that work with your job schedule? Don't worry. We have the ideal solution for you!
Choosing your classes each semester is now easier with Schedule Builder. Schedule Builder is a tool that enables you to plan and register for courses that meet your schedule and needs. Schedule Builder allows you to graphically view schedule options based on desired time, availability, location, and other factors that work best for you.
Key Benefits
Add courses.
Add breaks.
Compare schedules.
Create a personalized class schedule that works for you.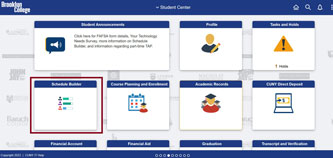 How to Access Schedule Builder
Go to CUNYfirst.
Click on the "Student Center" tile.
Click on the "Launch Schedule Builder" tile.
Guides / Video Tutorials
Frequently Asked Questions (FAQ)